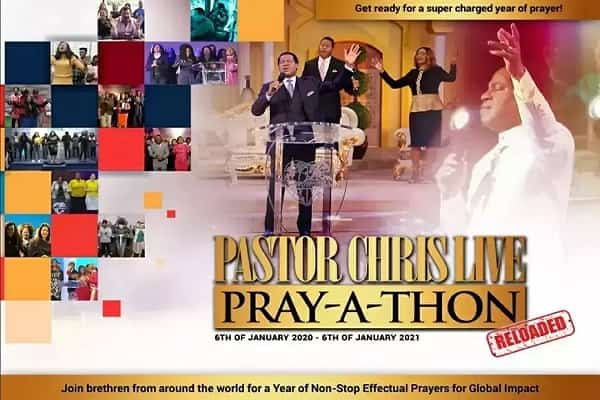 Year-long nonstop global prayer marathon kicks off, set to effect tremendous change in the world.
The epochal year-long global Pray-a-Thon with the man of God, Reverend (Dr.) Chris Oyakhilome, has kicked off in earnest today, Monday, January 6th. The program is a 24-hour nonstop prayer marathon, slated to continue till January 6th, 2021.
Different Church groups, fellowships, cells and partners of the Pastor Chris Live global prayer network will take turns to pray fervently for periods of 15 minutes each day, using a meticulously designed schedule. In the words of the man of God, "we are set to effect changes in the world through heartfelt, effectual fervent prayers."
See Also: Africa's First Female President Graces Future Africa Leaders Award Ceremony
Last year, in the month of June, 'the Month of Prayer', Pastor Chris introduced the month-long Pray-a-Thon. It was one month of continuous 24-hour prayer with different groups praying in intervals around the world. Several miracles and testimonies emanated from this spiritual exercise. LoveWorld President, Reverend (Dr.) Chris Oyakhilome, attributed the immense success recorded by the ministry in the year 2019 to fervent prayers offered during this period. This year, the man of God has expanded the vision to include a whole year's pray-a-thon.
There is no telling the miracles that will be experienced across the LoveWorld Nation in this Year of Perfection as a result of the Pray-A-Thon with Pastor Chris. Get vitally involved today, taking advantage of the glorious opportunity to fulfill your priestly ministry as a Christian. Follow the PastorChrisLive SuperUser on KingsChat to receive daily prayer posts sent out by Pastor Chris.
Join the Live stream of the Global Pray-A-Thon @ http://bit.ly/prayathonlivetv for glorious times to make power available for change.
Download KingsChat mobile app 👇
http://bit.ly/DownloadKingschatAppForAndroid
http://bit.ly/DownloadKingschatAppForIOS