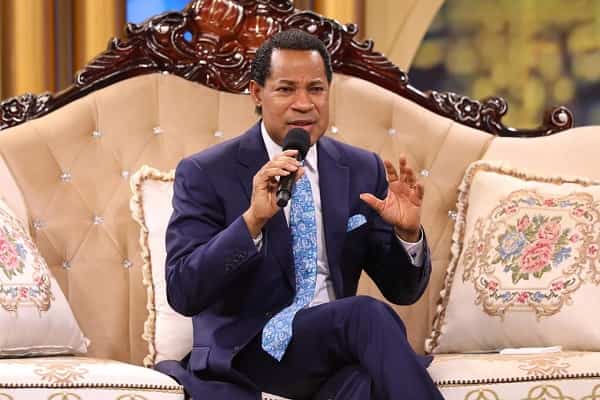 "This Year of Perfection, you will experience endless possibilities by the power of the Holy Ghost!" — Pastor Chris to global congregants.
The first Global Communion Service in 2020 with the man of God, Reverend (Dr.) Chris Oyakhilome was hosted from the studio at the LoveWorld Crusade Grounds, Lagos-Ibadan Expressway, on Sunday, January 5th, and broadcast LIVE to a global audience assembled in various churches and connecting via LoveWorld TV networks and internet platforms. 
It was a special time of prayer and the teaching of the Word to set the new year on a course consistent with the prophetic utterance for the year, as declared by Pastor Chris. Fervent prayers, led by the esteemed Pastor Lanre Alabi, were offered to open up the service. The congregation honored God with the fruit of their lips, singing and worshipping as the choir sang spirit-lifting songs of worship and praise to God.
Earlier in the day, Pastor Chris ministered to those in the Lagos Region at the Prayer Festival and Communion Service, which saw the gathering of a mammoth crowd that filled the 80,000 seating capacity auditorium with overflows. The people came from all over Lagos and its environs to receive insight into the message of the year and to be rightly positioned for a perfect 2020.
See Also: New Year's Eve Service with Pastor Chris Saturates Airwaves with Glory
Onset with Pastor Chris at the Global Communion Service was the highly esteemed CEO, Pastor Deola Phillips, the esteemed Director of Programs, Pastor Ifeoma Chiemeka, and the esteemed Director of Church Growth International, Pastor Lanre Alabi. Each of the panelists took turns to recount the glorious miracles LoveWorld witnessed as a ministry in 2019 and also shared their expectations and inspirations concerning 2020.
In spiritually enlightening teaching, Pastor Chris delved deeper into the four key elements of perfection that were listed at the New Year's Eve Service: alignment; completeness; excellence; and, fruition. Reading from 2 Corinthians 13:9 and Ephesians 4:11-13, he taught that alignment refers to mending, framing or being brought into God's perfect will, thoughts and purposes for one's life. Pastor Chris shed light on completeness as being made full, perfect and whole, wanting nothing and lacking nothing, while excellence connotes functioning as a perfect being made after God. He further explained that fruition refers to bearing fruit, bringing all that you are involved with into perfection. 
Urging God's people to build up great expectations for the year, the man of God stated that "our expectations as a ministry are consistent with our calling." This, he said, emphasizing the importance of having expectations that line up with God's calling.
The global congregation received greater insight into the message of the year and was better positioned to walk in perfection all through the year, as Pastor Chris expounded on the message of the year at the January Global Communion Service.