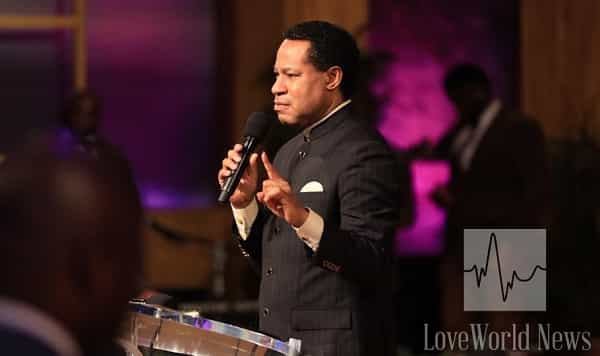 Refreshing times with the Word as Pastor Chris, Pastor Benny Hinn, other inspiring ministers bless millions.
The much anticipated LIVE broadcast of 'Your LoveWorld Praise-A-Thon' with Pastor Chris and Pastor Benny Hinn kicked off today, Monday, December 9th, with a superlative opening session beamed from the LoveWorld Studios, Lagos, Nigeria. 
The man of God, Reverend (Dr.) Chris Oyakhilome, welcomed the live audience at the studio and those watching from all around the world to the special broadcast. He introduced Bishop James Payne and Pastor Dan Willis, who were on set with him and Pastor Benny Hinn. Reading from 1 Samuel 10:24, Pastor Chris explained to the audience the uniqueness and purpose of the Praise-A-Thon in contrast to a Tele-Thon broadcast. "Today is very special, because you are beginning something new in your life as we'll be sharing with you the principles of God's Kingdom," Pastor Chris declared to the global audience and then welcomed Pastor Benny Hinn to the podium.
Before he began teaching, Pastor Benny Hinn called on the choir for a soul-stirring rendition to set the tone for the session. Sharing along the line of how to prosper at all times as a Christian, Pastor Benny read from Jeremiah 17:7-8, Luke 21:24, Hebrews 10:22 among other scriptures and charged the audience to recognize their place in the Kingdom of God. "As a Christian, you never cease from yielding fruit, even in famine; you laugh in famine," Pastor Benny posited.
While sharing the Word with God's people during the session, Bishop James Payne testified of the tremendous growth and increase his ministry experienced this year by virtue of connecting with LoveWorld and his association with the man of God, Pastor Chris. According to him, the growth and financial increase witnessed in his ministry this year outclasses what he has ever recorded in over 43 years of being in the ministry. 
Your LoveWorld Praise-A-Thon continues with more life-transforming and enriching sessions later today at 6pm GMT+1 and on Tuesday, December 10th, and Wednesday, December 11th, at 10am GMT+1 and 6pm GMT+1 each day. Tune in to all LoveWorld TV stations or log in to www.helloloveworld.tv and www.pastorchrisonline.org to participate LIVE