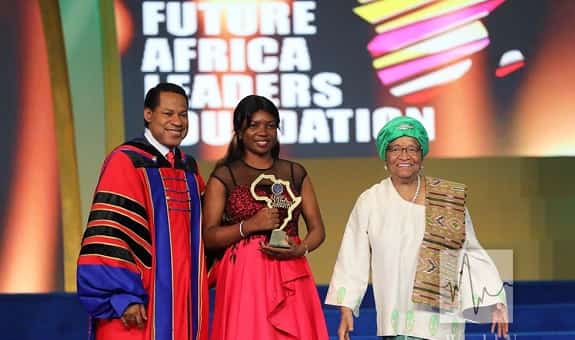 Pastor Chris honors young African female leader for courage, resilience and passion for humanity. 
The 2019 Future Africa Leaders Award (FALA) is one of the highpoints of the December 31st New Year's Eve Service with the LoveWorld President, Reverend (Dr.) Chris Oyakhilome. The ceremony, which recognizes the inspiring work of young, enterprising Africans, who have contributed to the development and progress of their nations, youth empowerment and more, broadcast live to millions of participants around the world.
The high point of the award ceremony was the announcement of the 2019 FALA Star Prize Winner from the list of the 10 awardees: Christian Appiah from Togo, Daniel Johnson Fernandez from Benin Republic, Xavier Tambiavulla from Angola, Edgard Willa from Zambia, Vera Kisseidu from Ghana, Hanson Hanson from Nigeria, Babien Helena from Cameroon, Kennedy Wesonga from Kenya, Rufaro Mutyamaenza from Zimbabwe and Ibrahim Biayika from Uganda. Babiene Helena Wenny from Cameroon emerged winner of the coveted Star Prize award announced was by the special guest of honor at the event, the former Liberian President and Nobel Laureate, her Excellency Madame Ellen Johnson Sirleaf. 
20-year-old Babiene Helena Wenny from Cameroon organized skill development programs for the physically challenged in her nation. Her zeal and passion for youth empowerment led to several young people benefiting from her skill acquisition initiatives, resulting in self-independence and reliance. Helena currently runs the largest medical campaign in her nation, Cameroon. Helena has also hosted 8 Back-to-School campaigns with a widespread impact on more than 600 young people. She has provided education grants to over 500 students in the nation of Cameroon, among other accomplishments. Her inspiring work has earned her the special recognition of the LoveWorld president as FALA 2019, Star Prize winner alongside a cash prize of $25,000.
The announcement and presentation of this special recognition award to the Star Prize winner capped the Future Africa Leaders Award 2019. Congratulations to Babien Helena Wenny, the 2019 FALA Star Prize winner and the nine others who were also presented with awards at the ceremony!