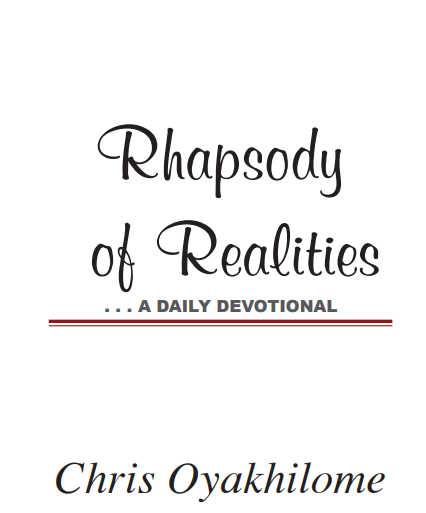 Get Serious With God
Say a quiet yes to God and he'll be there in no time. Quit dabbling in sin. Purify your inner life. Quit playing the field. Hit bottom, and cry your eyes out. The fun and games are over. Get serious, really serious (James 4:8-9 MSG).
Ephesians 5:15-16 is an apt admonition for us especially in these last days. It says, "See then that ye walk circumspectly, not as fools, but as wise. Redeeming the time, because the days are evil. " The stakes are very high. You can't live your life carelessly as a child of God. You belong to Jesus Christ; therefore, serve Him with your life. Live for Him.
The Bible says, "What? know ye not that your body is the temple of the Holy Ghost which is in you, which ye have of God, and ye are not your own? For ye are bought with a price: therefore glorify God in your body, and in your spirit, which are God's" (1 Corinthians 6:19-20). God has a purpose for your life which you must fulfil. That's the most important thing for you: discovering your purpose in Him and fulfilling it.
Life isn't about your personal dreams, plans, aspirations or ambitions. The Bible says, "Seeing then that all these things shall be dissolved, what manner of persons ought ye to be in all holy conversation and
godliness" (2 Peter 3:11). It makes no difference what beautiful structures you see in this world or the earthly fulfilment of men; everything shall be destroyed.
It reminds of King Solomon who built God the most beautiful temple ever. It was greatly celebrated, and of course, God was happy with him and blessed him. But our God doesn't live in temples made with
hands. When they went into idolatry and began to serve Baal, the beautiful temple was destroyed; a resultant punishment for not walking in line with His Word.
God doesn't care about earthly things. Everything you'll ever have in this world came from something that was already here, and if that's true, why don't you live your life for the One who made all things originally? Serve Him with your life. Get serious, really serious with your service of the Lord.
PRAYER
I was born for the glory of God, to walk with Him and bring Him honour. He planned from the beginning that I should serve Him with my life, and walk worthy of Him, pleasing Him in all things, and fruitful in every good work. This is my passion, pursuit, and purpose every day, in Jesus' Name. Amen.
FURTHER STUDY:
1 Peter 1:18-19; Ephesians 2:10 AMPC; 1 Corinthians 7:23
1-YEAR BIBLE READING PLAN: Galatians 3:1-14 & Songs of Solomon 3-5
2-YEAR BIBLE READING PLAN: 1 Timothy 3:8-16 & Jeremiah 35