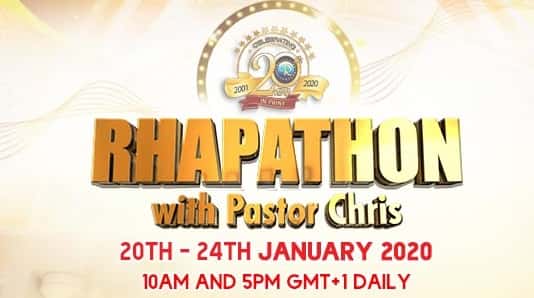 It's time to
embark on an epic journey that will transform you forever; get ready for
RHAPATHON with Pastor Chris; a series of epics about Rhapsody of Realities, and
its legendary hero, Jesus Christ!
Scheduled to
take place from the 20th – 24th January, it's going to be a victory parade of
the many triumphs of the Messenger Angel authored by the man of God, Pastor
Chris, and of its heroic partners, whose extraordinary incursions into
different nations and cities have led to the massive spread of righteousness
around the world.
Join millions
of Rhapsody partners around the world during this 5-day live telecast to
celebrate the global impact of the world's No.1 daily devotional, now in its
20th Year in Print! It'll be broadcast live on all LoveWorld networks and
online.
RHAPATHON with Pastor Chris promises to be a program like no other, beginning a greater level of impact through God's Word for millions around the world.
For more information, please visit: http://rhapsodyofrealities.org