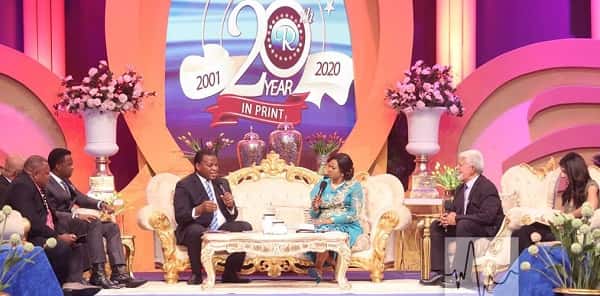 Uniquely inspiring Rhapsody stories shared by panelists, stir faith in hearts of global audience participating.
The 5-day Global Rhapathon with the man of God, Reverend (Dr.) Chris Oyakhilome, commenced in a blaze of glory, on Monday, January 20th. The epochal event which marks the 20th anniversary of the best-selling daily devotional, Rhapsody of Realities, is being hosted from the LoveWorld Studios in Lagos, Nigeria and broadcast LIVE to a global audience numbering in millions.
At the opening session, the esteemed Director of Rhapsody of Realities, Pastor Yemisi Kudehinbu welcomed participants from around the world on behalf of the President amidst resounding cheers of excitement and celebration by the studio audience. She introduced the panelist on set with her and went on to highlight the impact of the Rhapsody of Realities in the Continent of Oceania which was the focus at the session. 
The day's session featured inspiring and faith-stirring testimonies of the global impact of Rhapsody of Realities particularly in Oceania and the Pacific Islands. Ministers of the Gospel from the region who have embraced God's message contained in the Rhapsody of Realities and have committed their lives to its spread, took turns to recount their unique Rhapsody stories. They shared on their first encounters with the Messenger Angel. They testified to the transforming impact studying the devotional, had on their lives and ministries, orchestrating their resolve to spread the divine message it carries through massive distribution to the people of the region. Driven by this passion, the devotional has been translated into numerous indigenous languages and still counting, making it easy for the people to understand and appreciate God's Word more.
Senior ministers in the LoveWorld Nation also shared powerfully with the global audience on the need for Rhapsody of Realities to reach more people in the world. They emphasized that, the daily devotional is more than just a book but rather, it is God's agenda to reveal His Will to His people and bring them into their rightful place in Christ. It was such an amazing time in God's presence.
Electrifying song renditions by LoveWorld artistes, Israel Strong, Jahdiel, Eli-J and others further heightened the celebration. The audience sang along, danced and worshipped in thanksgiving to God for the gift of the Messenger Angel, Rhapsody of Realities and its global impact in the last 20 years.
The Global Rhapathon with Pastor Chris continues each day from now until Friday January 24th. Get more information on the broadcast schedule via https://web.kingsch.at/superusers/ror. Tune in to LoveWorld Networks, log on to www.rhapsodyofrealities.org and http://ceflix.org/ at 10am GMT+1 and 6pm GMT+1 each day respectively, to participate LIVE