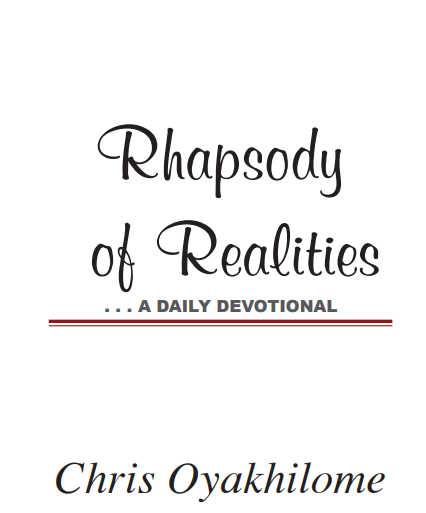 DESIRE TO PROPHESY
For ye may all prophesy one by one, that all may learn, and all may be comforted
(1 Corinthians 14:31).
To prophesy means to speak words of divine revelation and potency; words that have and give life. And through the gift of prophecy, the Body of Christ— the Church—is edified, strengthened and comforted.
You might be in your closet or in a meeting, and words in Psalm 23 well up from within you, and then you go, "Psalm 23 verse 1 says, 'The LORD is my shepherd, I shall not want'; therefore, we're nourished, sustained, energized, strengthened and prepared for His soon return
through the ministry of the Word! We're invigorated and vitalized through and through because He nourishes us.'"
With such words, the church is edified. Hallelujah! That's why the Bible says, "Pursue love, and desire spiritual gifts, but especially that you may prophesy" (1 Corinthians 14:1 NKJV). Through the gift of prophecy, we can admonish one another and strengthen one another.
1 Corinthians 14:31 says, "For ye may all prophesy one by one, that all may learn, and all may be comforted." This isn't the same thing as everyone being a prophet. He didn't say we may all desire to be prophets. Rather, it says that every one of us can, and should desire to prophesy.
If the gift of prophecy will bless and edify the church, it'll bless and edify you. You can use the gift of prophecy to take charge of your life and control things in your "aion." Acts 2:17 says, "And it shall come to pass in the last days, saith God, I will pour out of my Spirit upon all flesh: and your sons and your daughters shall prophesy…."
Chart your course in perpetual victory and triumph through the gift of prophecy. Prophesy about the peace and prosperity of your nation and the nations of the world. Prophesy about your health, success, prosperity and victory. Prophesy about your life, and about your future.
Prophesy to your bone, to your body, to your skin, to your
blood, to your finances, job, business, academics, etc.
CONFESSION
I'm nurtured, edified and sustained in the victorious life. I walk in divine health and prosperity; I walk in the fullness of the blessings of the Gospel. My life is upward and forward only, and I'm filled with the knowledge of God's will in all wisdom and spiritual understanding. Amen.
FURTHER STUDY:
1 Timothy 1:18 AMPC; Romans 12:6

1-YEAR BIBLE READING PLAN: 2 Timothy 3:1-17 & Jeremiah 23-25
2-YEAR BIBLE READING PLAN: James 1:1-27 & Ezekiel 27
Please follow and like us: