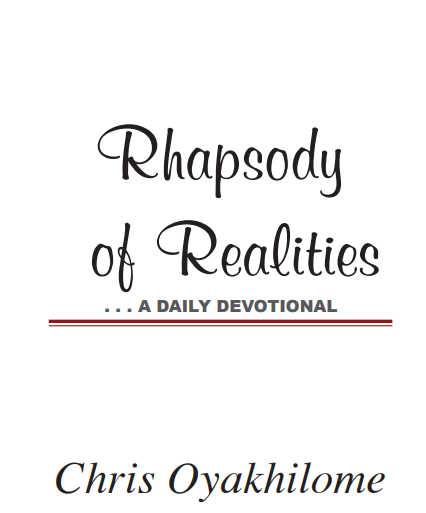 KNOW HIM AS LORD
Wherefore God also hath highly exalted him, and given him a name which is
above every name: That at the name of Jesus every knee should bow, of things
in heaven, and things in earth, and things under the earth; And that every
tongue should confess that Jesus Christ is Lord, to the glory of God the Father (Philippians 2:9-11).
When we say, "Jesus is Lord," it's much more than a religious expression; it means He's One with supreme authority. He's Master and Ruler; He's the One to be reverenced and adored! That's
what "Lord" means.
Some have only been acquainted with Him as Saviour, but He's more than a Saviour. He's the One that has the pre-eminence, and to whom service and obedience are due. You must know Jesus in this light
and walk in this consciousness every day. In your family, business, academics, job, finances and everything that has to do with your life, relate to Him as Lord! In other words, let Him have supremacy and ascendancy. Let Him have the final say in all that concerns you.
Remember, He's the only wise God; therefore, submit to the supremacy of His will, counsel and wisdom. And if you've never been born again, if you haven't yet made Jesus the Lord of your life, say this prayer and mean it with all your heart: "O Lord God, I believe with all my heart in Jesus Christ, Son of the living God. I believe He died for me and God raised Him from the dead. I confess that Jesus Christ is Lord of
my life. Through Him and in His Name, I have eternal life; I'm born again. Thank you Lord, for saving my soul! I'm now a child of God. Hallelujah!"
CONFESSION
Lord Jesus, I recognize you as my Lord, Master and Ruler, the One to whom I belong and that has the final say in my life. I believe with all my heart and declare with my mouth that you're Lord over everything in heaven, in the earth, and under the earth. I walk in the consciousness and revelation of your greatness, dominion and lordship today. Amen.
FURTHER STUDY:
1 Timothy 6:15-16; Acts 10:36
1-YEAR BIBLE READING PLAN: 1 Timothy 3:1-16 & Jeremiah 9-10
2-YEAR BIBLE READING PLAN: Hebrews 10:19-39 & Ezekiel 20