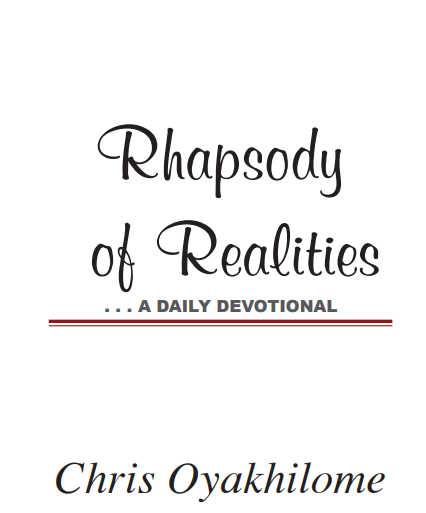 Your Recipe For A Happy Life
For he that will love life, and see good days, let him refrain his tongue from evil, and his lips that they speak no guile: Let him eschew evil, and do good; let him seek peace, and ensue it (1 Peter 3:10-11).
God's plan for you is that you live a glorious life, happy and excited every day, irrespective of the happenings around you. This takes living by the Word. The Word of God unveils the fundamental principles of success that you can act upon for a Godcentred fulfilling life.
For example, our opening scripture is very instructive on how to have a blissful life. In The Living Bible translation, it reads, "If you want a happy, good life, keep control of your tongue, and guard your lips from telling lies. Turn away from evil and do good. Try to live in peace even if you must run after it to catch and hold it" (1 Peter 3:10-11).
The admonition is clear: do you want a wonderful life? It's up to you! Eschew evil and do good; live peaceably with all men. Practise this. God is giving you the recipe for a successful life, a life that's filled with joy and good things.
Your life will be beautiful, fulfilling, inspiring and excellent if you'd live by the Word. His Word is so simple, yet has the power to produce what it says. It's your instruction manual for life, the light that guides you in righteousness, glory, and victory. 1 Thessalonians 5:16 says, "Rejoice evermore." Put this to work in your life. Be full of joy always, for the joy of the Lord is your strength.
PRAYER
Dear Father, I thank you for giving me such a beautiful, extraordinary, exciting, fulfilling, exceptional and excellent life; a glorious life that radiates joy, excellence and peace. Irrespective of contrary circumstances, I stir up joy from within; your glory, grace, and righteousness are seen and manifested in me, in Jesus' Name. Amen.
FURTHER STUDY:
Romans 14:17; Nehemiah 8:10 AMPC; 1 Peter 1:8
1-YEAR BIBLE READING PLAN: Acts 3:1-26 & 2 Chronicles 12-15
2-YEAR BIBLE READING PLAN: 2 Corinthians 2:8-17 & Songs Of Solomon 3-4