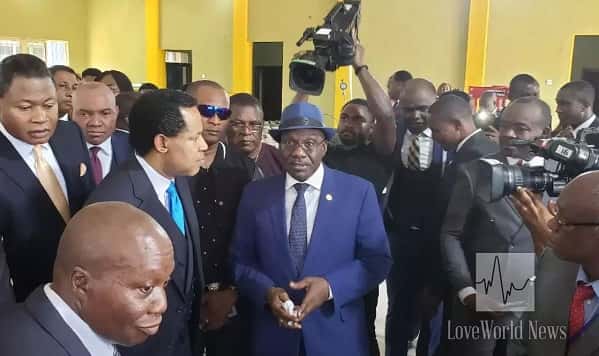 LoveWorld President inaugurates the Dr. Chris Oyakhilome Faculty of Engineering at the dedication of Benson Idahosa University's Legacy Campus.
Today, Tuesday March 10th, the President, LoveWorld Inc., Reverend (Dr.) Chris Oyakhilome, commissioned the newly constructed Faculty of Engineering, which he donated to the Benson Idahosa University in Edo State, Nigeria. In 2018, Pastor Chris donated the sum of 1 billion Naira for the construction of the state-of-the-art faculty building.
The grand occasion was graced by high profile dignitaries from across Nigeria, including ministers of the Gospel, top government functionaries, the Oba of Benin Kingdom (Oba Ewuare 2), other royal fathers from across the Niger-Delta Region of Nigeria and distinguished guests. The Chancellor of the University, Most Reverend Margaret Benson Idahosa, the President, Bishop Feb Idahosa, and the entire Benson Idahosa University family heartily received Pastor Chris and guests at the event.
In her welcome remark, Reverend Margaret Benson Idahosa lauded the kind-heartedness of the LoveWorld President. She praised the undaunted commitment to quality education and human capital development demonstrated by Pastor Chris. She spoke as a mother, proud of a son living out the legacy of his family. Reverend Margaret fondly spoke of Pastor Chris' teenage years, how he worked at the Church of God Mission International and would spend time looking at Archbishop Benson Idahosa's crusade pictures that formed a mural in the halls of the ministry.
Addressing the distinguished audience, Pastor Chris thanked the late Archbishop Benson Idahosa for laying down a worthy legacy to promote education and the spread of the Gospel around the world. He remarked that the ministry of the late Archbishop has directly and indirectly impacted every Christian organization in Nigeria and beyond. He stated that he was motivated and driven by the legacy of the Archbishop in carrying out this donation project. He also appreciated Archbishop Margaret Benson Idahosa for protecting and prolonging the legacy of the late Archbishop Benson Idahosa. Pastor Chris, then, called on patriots and Christians to contribute meaningfully to the projects of the Benson Idahosa University and to make it the best. "This is a venture with eternal value," he said.
Following his speech, the Chancellor led Pastor Chris and other dignitaries present at the occasion to the cutting of the ribbon, official opening of the Legacy Campus. Everyone present seized the opportunity to also tour the beautiful facility.