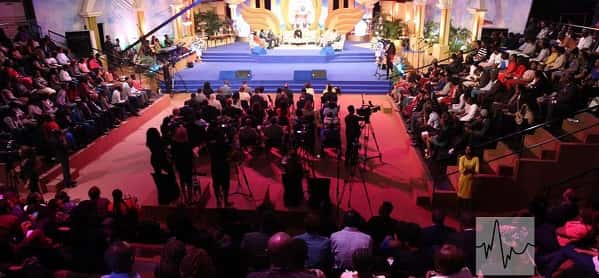 "Rhapsody of Realities is the music from heaven," Pastor Chris communicates to global audience.
The ongoing Rhapathon with the man of God, Reverend (Dr.) Chris Oyakhilome, has been replete with thought-provoking Rhapsody stories from around the world. Diverse inspiring testimonies of the works of faith of men and women who have committed their lives to the continuous spread of the Messenger Angel to every man's world characterize each session. 
In powerful exhortations during the sessions, the highly esteemed Member of the CEC, Reverend Tom Amenkhienan and other senior ministers, spoke on the vision of Rhapsody of Realities and why its global spread is unstoppable. The esteemed Pastor Amaechi Udeaku, Zonal Director, Christ Embassy Port Harcourt Zone 1, reiterated the words of Pastor Chris, stating that, "Rhapsody of Realities has brought together more Christians united in one thing, having one language, thought, opinion and agenda than anything else in the world." He concluded by saying that, "Rhapsody of Realities is a solution!"
Speaking during a plenary session, the esteemed Zonal Director of Christ Embassy Accra Ghana Zone, Pastor Biodun Lawal, stated that the purpose of the Rhapsody of Realities is to move God's people from being built to building. "You are to move from being a husbandry to become God's laborer," he posited. In another plenary session, the esteemed Zonal Director of Christ Embassy Lagos Zone 2, Pastor Emeka Eze, identified the Rhapsody of Realities to be the Kingdom curriculum that is bringing the entire church of Jesus Christ to the unity of the faith. The esteemed Zonal Director of Christ Embassy Mid-West Zone, Nigeria, Pastor Mary Owase, emphasized the need for more penetration of the Gospel of Jesus Christ in all the nations of the world.
The arrival of the man of God, Pastor Chris, on the second day of the epic program, heightened the excitement and expectations of participants. Sharing on the global impact of the best-selling daily devotional and the need to do more with the Messenger Angel, Pastor Chris stated that God already declared us winners from the very beginning. Referencing 1 John 4:4, he emphasized the need for God's children to always carry the victory mentality, because no matter what happens they already won. God's people shouted for joy, rejoicing at the hearing of such anointed words.
Watch the featured video to relive the moments and get ready for more to come as Rhapathon with Pastor Chris continues until Friday, January 24th.